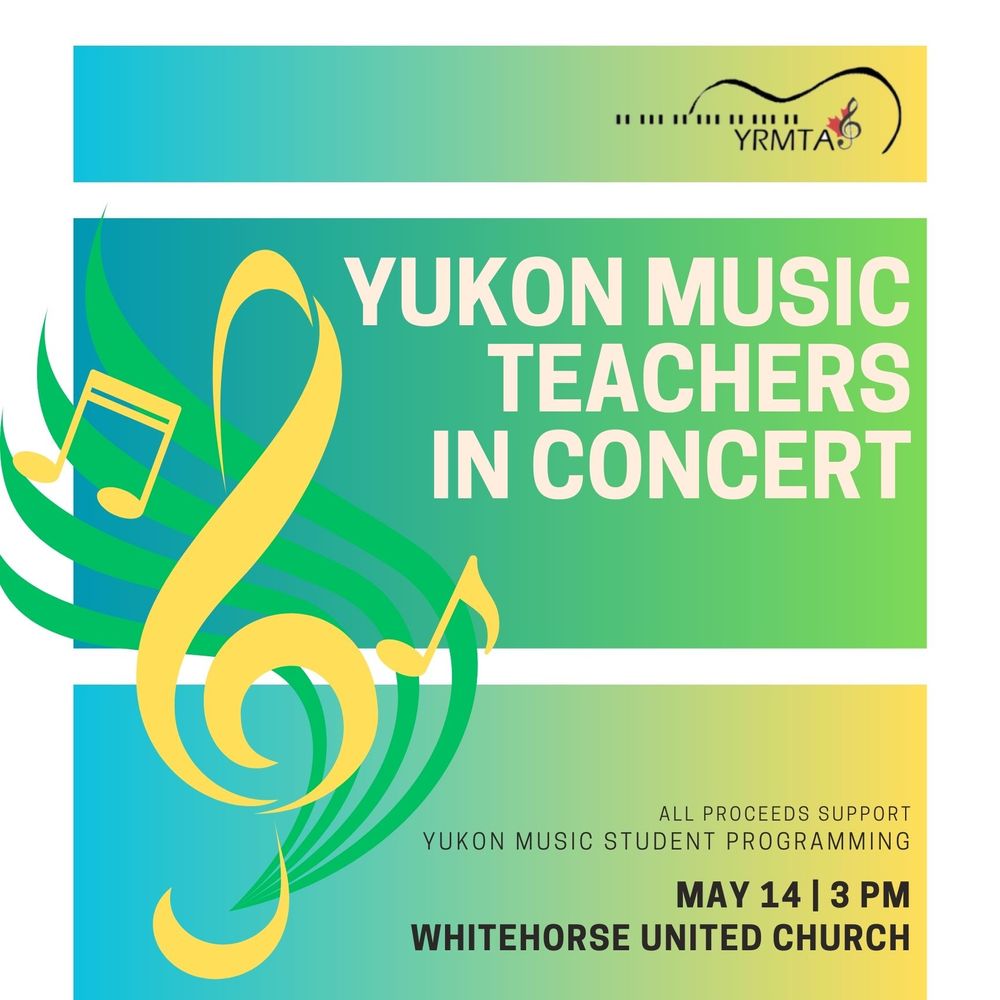 Yukon Music Teachers in Concert
MAY 14, 3PM-wHITEHORSE UNITED CHURCH
On Sunday May 14th, at 3pm, music teachers and friends will hit the stage in the newly renovated Whitehorse United Church for their   
annual recital. This is a fundraiser presented by Yukon Registered Music Teachers Association - a great opportunity to hear some of our many talented music teachers perform. Hear performances by Keitha Clark, Andy Slade, Andrea McColeman,  Eric Desaulniers, Erica Mah, Danette Readman, Roslyn Wilson, Alana Martinson, Tom Connor, Joyce Klassen, Cheryl Wishart, Barry Kitchen and more!
Admission is by donation and all proceeds go to support Yukon music student programming. Come on out for a fun afternoon of music!
Bring your mom!
Canada Music Week Concert
Check out the lovely concert happening Sunday, Nov. 27, 2022 celebrating Canada Music Week!  
The show features performances by jazz pianist Andy Slade, The Fiddleheads, Vocalist Emily Ross and student performers:  Dorothy Dallaire (piano), Hera Mae Hermosa (voice),  Kenan Johnson (piano), Lucy Aasman (guitar), Ben Williams(piano), Kippen Briggs (piano), Xavier Davis (cello), Autumn Von Eccher (piano), Chloe Kennedy(piano), Daniel McLelland( guitar), Nicolas Fecteau (piano).  
The concert is family friendly and a great way to explore Canadian compositions and support young Yukon musicians.  
(Canada Music Week was started in 1960 by the Canadian Federation of Music Teachers' Association. Its goal is to highlight the importance of Canadian music to audiences, educators and students across Canada.)
Canada Music Week Online Concert
Celebrating Canada Music Week in the Yukon!
The YMTA's Canada Music Week online concert features a lovely selection of Yukon students performing Canadian compositions in a diverse range of styles. 
Come celebrate our local talent and Canadian composers!
About Canada Music Week:   
The aims of Canada Music Week are to bring to the attention of the public, through various means, the importance of Canadian music; to support composers and performers of Canadian music; to introduce contemporary music to young Canadians and stimulate a keener appreciation and understanding of this music, and to encourage music educators to widen their knowledge and experience of Canadian works.    
Canada Music Week is organized by the Canadian Federation of Music Teachers' Associations. Thousands of Canadians experience Canada Music Week festivities each year in their communities.
YRMTA: Teaching in the North
In July 2021, the Yukon Registered Music Teachers' Association presented an online panel at the CFMTA's Connecting Canada Conference.  
Join members of the YRTMA as they discuss the challenges and opportunities of teaching in North. 
Panel Host: Annie Avery
Guests: Joyce Klassen, Ellen Thompson, Danette Readman, Barbara Chamberlin, Keitha Clark,  Barbara Barchen, 
Yukon Music Teachers in Concert!
Yukon Registered Music Teachers Association presents their annual fundraiser concert featuring Yukon Music Teachers. 
This year's performance was an on-line streamed show, recorded at the Yukon Arts Centre. You can hear piano, guitar, marimba, violin and voice playing classical, jazz, pop, original compositions, and more! 
Performers include Barry Kitchen, Mother-daughter duo Joyce Klassen and Connie Penner, Annie Avery, Keitha Clark, Katie Avery, Tom Connor, Keiko Fujise, Brenda Lee Katerenchuk, Barbara Chamberlin and Logan Bennet. 
Enjoy this much loved and anticipated annual offering and support your local music teachers!
Canada Music Week Online Concert